Online Booking Questions
Disciplined Minds Tutoring uses Bookly to help clients schedule sessions online, view their upcoming sessions, as well as reschedule and cancel sessions at their convenience! Please view our most frequently asked questions about online booking below.
How do I schedule a tutoring appointment?
To schedule an appointment, please click here to visit our online booking portal.
If you're not sure what to schedule, you can view an explanation of our offerings by clicking here!
Where do I find my Zoom link?
If you scheduled a session online over Zoom, you should have received a confirmation email at the time of booking – your Zoom link is included in this email.
Your Zoom link is also available in your client portal, which you can visit by clicking here!
I'm already a Disciplined Minds customer, how do I find my login details?
If you have future sessions scheduled with Disciplined Minds Tutoring, you may already have an account in our system! To check if an account has been made for you, you can reset your password by clicking here. Please search your inbox for an email titled "New Online Booking Account – Disciplined Minds Tutoring."
If you receive this error message:

Please feel free to schedule sessions through our online booking portal and create a new account! If you have additional questions about account information, please reach out an Administrative Assistant at the following times by text or call:
Mondays, Tuesdays, Wednesdays, and Thursdays: 9:00am-8:30pm
Fridays and Sundays: 9:00am-1:00pm
How do I cancel an appointment?
To cancel an appointment, please view all of your upcoming sessions through your client portal by clicking here.
Once you've located the session you'd like to cancel, please select the "Cancel" button: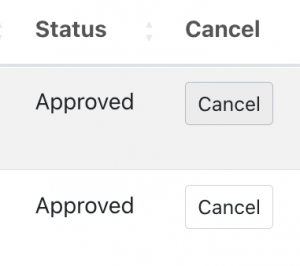 You may also cancel sessions using the link found in your confirmation email, which you should have received after booking.
I have a question that is not on this list!
Hello and thank you for your interest in Disciplined Minds Tutoring! Please feel free to text or call in to (813) 254-5437 at the following times to chat with an Admin:
Mondays, Tuesdays, Wednesdays, and Thursdays: 9:00am-8:30pm
Fridays and Sundays: 9:00am-1:00pm